HEY EVERYONE! SO I HAVE NEGLECTED MY BLOG BIG TIME AS YOU CAN PROBABLY TELL IF YOU LOOK THROUGH MY OLDER POSTS. HOWEVER I AM BACK AND HAVE A LITTLE MORE TIME ON MY HANDS TO BLOG. TODAY I THOUGHT I WOULD SHARE THE TOP 5 PRODUCTS THAT I HAVE CONTINUOUSLY LOVED SINCE THE TIME I STOPPED BLOGGING. THESE WILL BE IN NO PARTICULAR ORDER.
1. LA VANILLA HEALTHY BODY BUTTER IN VANILLA LAVENDAR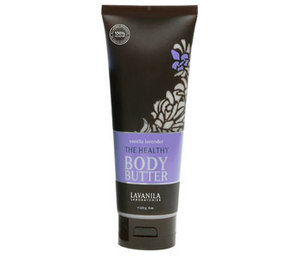 I FIRST RECEIVED THIS LOTION LAST YEAR IN A BIRCHBOX. I FELL IN LOVE WITH IT INSTANTLY AND QUICKLY FINISHED UP THE SAMPLE AND ORDERED THE FULL SIZE. I FIND THE SCENT TO BE SOOTHING AND RELAXING. IT HAS BECOME MY GO TO BODY BUTTER AND I PLAN ON REPURCHASING IN THE FUTURE! IT ALSO COMES IN DIFFERENT SCENTS IF YOU ARE NOT A FAN OF LAVENDAR - RETAILS FOR: $20.00 FOR LARGEST SIZE AND $10.00 FOR THE 2.75 OZ.
2. LOREAL INFALLIBLE EYESHADOWS
I CURRENTLY ONLY OWN AMBER RUSH AND BRONZED TAUPE. THESE ARE MY ABSOLUTE FAVORITE EYESHADOWS! THEY ARE ADVERTISED AS BEING 24 HR SHADOWS, I AM NOT SURE IF THAT STATEMENT IS TRUE BUT I KNOW FOR ME THEY HAVE LASTED UP TO 16 HRS WITH PRIMER. GIRLS WITHOUT OILY LIDS HAVE SAID THEY RECEIVED THE SAME RESULTS WITHOUT PRIMER. THERE ARE 12 SHADOWS AVAILABLE. DEPENDING ON WHERE YOU GET THESE THEY RETAIL FOR AROUND: $6-$8.
3. PHYSICIANS FORMULA ORGANIC WEAR MASCARA
THIS MASCARA IS AMAZING FOR PEOPLE LIKE ME WHO SUFFER FROM SENSITIVE EYES OR ALLERGIES. IT DOES NOT CONTAIN ALOT OF THE BAD STUFF REGULAR MASCARAS CONTAIN. BEFORE EVERY MASCARA I WOULD USE WOULD BE FINE FOR A FEW HOURS, THEN IT WOULD BEGIN TO BURN MY EYES REALLY BADLY AND WOULD END IN A HORRIBLE SMEARED MESS. WITH THIS ONE THAT HAS YET TO HAPPEN. RETAILS FOR $6.00-$9.00 DEPENDING ON WHERE YOU GET IT.
4. MILANI LIQUIFYE EYELINER
I HAVE THE BLACK ONE. I LOVE THIS EYELINER. IT STAYS DARK THROUGHOUT THE DAY AND APPLIES SO SMOOTHLY. I CAN ALWAYS TELL A MAJOR DIFFERENCE WHEN I USE A DIFFERENT EYELINER, FOR SOME REASON THIS ONE SEEMS TO GIVE MY EYES LIFE! THIS RETAILS FOR AROUND: $7-$8
5. ALMAY SMART SHADE MAKEUP
I RECENTLY GOT THIS PRODUCT. I BOUGHT IT BECAUSE I WAS LOOKING FOR SOMETHING LIKE A TINTED MOISTERIZER. I WASN'T EXPECTING A MIRACLE WITH THIS MAKEUP. BUT I ACTUALLY REALLY LOVE IT! IT IS LIGHT COVERAGE BUT FOR ME IT COVERS UP ENOUGH AND GIVES MY MAKEUP A NATURAL LOOK. I HAVE GOTTEN COMPLIMENTS EVERYTIME I WEAR THIS. THE ONLY HUGE DOWNSIDE IS THAT THE SHADE RANGE IS VERY LIMITED. SO REALLY MAKE SURE BEFORE YOU BUY THIS IF IT COULD REALLY MATCH YOU BECAUSE IT DOESN'T CONTAIN ANYTHING MAGICAL THAT IS INSTANTLY GOING TO MATCH EVERY SINGLE PERSON! THIS RETAILS FOR : $7-$10